Spencer Stuart launches New Initiative in Partnership with Unleashing Leadership Potential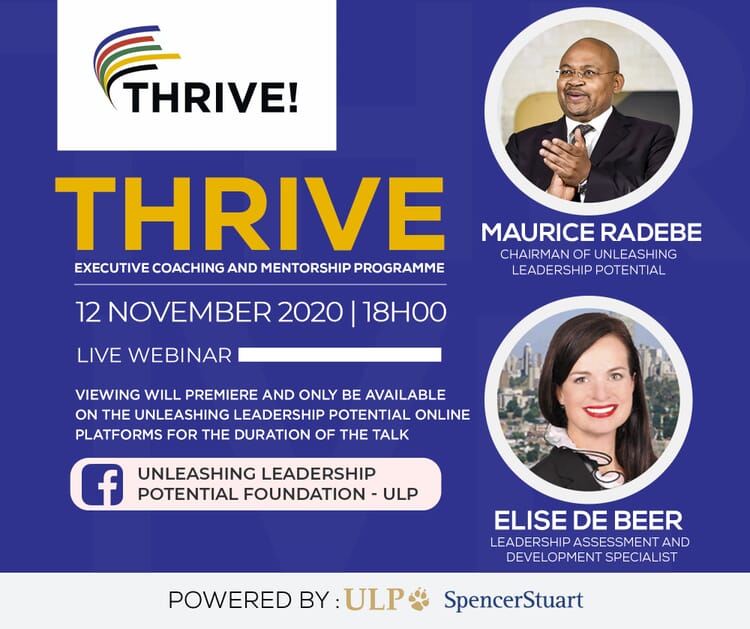 Spencer Stuart and Unleashing Leadership Potential (ULP) announced Thrive!, a new partnership to develop leadership capabilities among the next generation of executives in South Africa and to equip them to have maximum impact on their organizations and communities.
Each year, five participants will be selected to participate in a wide-ranging program that will see them undergo Spencer Stuart's rigorous Advanced Leadership Profile assessment. This will lead to the creation of a tailored individual development plan to help them develop their skills and build their knowledge and confidence as leaders. Each participant will receive support from a Spencer Stuart consultant and the associate team who will help guide their longer-term career planning and development.
ULP will assign mentors from their network of "Captains of Industry" to journey with these executives.
Elise de Beer, a consultant with Spencer Stuart's Leadership Advisory Services in Johannesburg, commented: "Our aim is to help develop emerging leaders who have not had access to development opportunities that would help them realize their potential as leaders. We are delighted to be partnering with ULP on this exciting initiative and we are proud to play our part in identifying and developing future leaders in our country."
Maurice Radebe, founder of Unleashing Leadership Potential, commented: "Leadership matters, leaders make or break countries, communities, companies, churches and families."
The five individuals chosen to participate in the inaugural Thrive! program are:
Boitumelo Sekete, Business Transformation Manager at Puma Energy
Oliver Naidu, Deputy Managing Director at Koninklijke Vopak N.V.
Sibonisiwe Sindane, Manager of Retail Equity Derivatives at Standard Bank
Theo Mashego, Group Chief Executive Officer of Mbali Industrial Solutions
Tshepo Mokgoto, Head of Group Infrastructure Services at Sasol
Source: AESC
Related