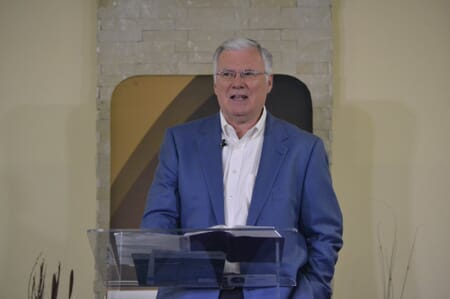 Dr. Bruce Wilkinson is the founder and chairman of The Exponential Group. Building on decades of experience as a professor, world-renowned speaker, and New York Times bestselling author, Dr. Wilkinson founded The Exponential Group in hopes of utilizing the world's resources to support faith based organizations.
Dr. Wilkinson is passionate about empowering leaders who are equipped to enact powerful, long-lasting change in the world. He has founded Walk thru the Bible, one of the largest religious seminar organizations in the world and launched World Teach, an organization that has sent thousands of Bible teachers to over 40 countries around the world.
As part of Dr. Wilkinson's passion for raising up the next generation of leaders, he realized that Biblically-based fundraising principles can result in exponential growth for organizations. Instead of limiting this exponential growth to his own speaking abilities, Dr. Wilkinson began training speakers to send out to organizations with the message God has already given us the resources to help save the lost people in our communities.
The Exponential Group, under the leadership and vision of Dr. Wilkinson, has raised over $65 million for Pregnancy Centers, $17 million for churches and $14 million for various non-profit organizations. We invite you to be a part of the exponential growth our partners are experiencing.
Bruce is happily married to Darlene and they are blessed with three children and 12 grandchildren.
Leadership Conversations with Dr Bruce Wilkinson