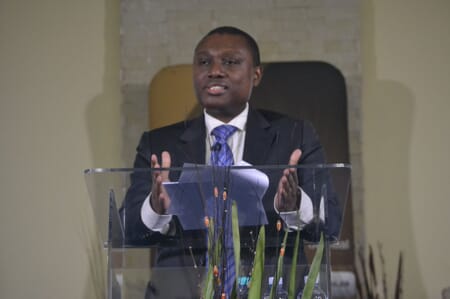 Simphiwe "Sim" Tshabalala is the Chief Executive of the Standard Bank Group. He was born in Hlabisa, in rural KwaZulu-Natal, grew up in Soweto, and was educated at Sacred Heart College in Johannesburg.
Simphiwe Tshabalala, is CEO of Standard Bank, Africa's largest bank by assets and the 421th largest publicly traded company in the world, according to Forbes.com Global 2000, 2017 list.
Mr. Tshabalala has over 22 years' experience in the financial services industry. Mr. Tshabalala is the only black person to lead one of South Africa's biggest banks since Sizwe Nxasana retired as the head of FirstRand Ltd., the second-largest by assets, in March 2015.
Mr. Tshabalala joined Standard Bank in 2000 in the project finance division and was appointed to group executive committee in 2001. Between 2001 and 2006, he was the managing director of Stanbic Africa, and from 2006 was appointed chief executive of PBB. In June 2008, he was appointed chief executive of SBSA and was appointed joint group chief executive of SBG in 2013, a position he held alongside Ben Kruger until September 2017.
In 2006, the Old Rhodian award, a coveted institutional honour bestowed on Rhodian achievers, was conferred on Mr Tshabalala for outstanding performance in the finance sector.
Mr. Tshabalala holds Bachelor of Arts and Bachelor of Law degrees (Rhodes), LLM (University of Notre Dame, USA), Higher Diploma in Tax Law (Wits), Advanced Management Program (Harvard).
Leadership Conversations with Sim Tshabalala