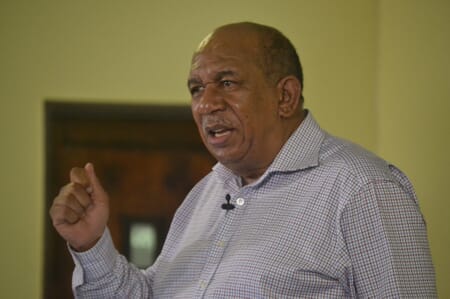 Martin was the former MEC of Finance in the North West Provincial Government from 1994 until 2004. Prior to that, he spent 17 years in the nursing profession, arguably the most important formative years of his life, that prepared him for his future leadership assignment. In June 2004 he became CEO of the South African Bureau of Standards a position he held until July 2009. He then started his own business ventures.
Martin was also the Chairperson of the first Board of Trustees for the Government Employee Pension Fund overseeing a portfolio worth R870 billion (the seventh biggest pension fund in the world) from June 2005 to July 2009. During his tenure, he was instrumental in the establishment of the Pan African Infrastructure Development Fund, a 627 million USD fund and served as its first Chairperson from 2007-2009.
From June 2006 – May 2009 served on the PRI Board, a United Nations Global Compact initiative on Principles for Responsible Investment where he had intensive exposure to international best practices on corporate governance, the dynamics of global capital markets and the intricacies of the investment value chain.
In September 2006 Martin was elected for a two year term on to the Council for International Standards Organization (ISO) based in Geneve, the highest authority in industrial standards development in the world. In September 2004 the President of South Africa appointed Martin for a five year term to the Finance and Fiscal Commission where he gained vast learning experiences on public policy analysis and intergovernmental fiscal relations.
From 2009 Martin then served as Vice President and in 2011 elected as President of the Afrikaanse Handels Instituut, one of the biggest business chambers in South Africa. Given his strong strategic and developmental skills, he was able to transcend the various cultures with a message of hope and transformation of the country's economic landscape. The Minister of Health appointed him in January 2014 on the first Board for the Office of Health Standards Compliance.
Leadership Conversations with Martin Kuscus