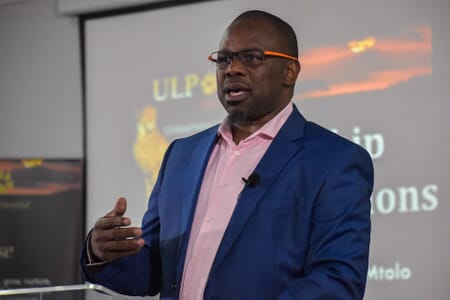 Hloniphizwe J. Mtolo is the chairman of the boards of the Shell Companies in South Africa. These include Shell South Africa Holdings, Shell Downstream South Africa and Shell South Africa Energy.
He is a board member and alternate chairman of SAPREF, South Africa's largest refiner of oil products.
Hloniphizwe serves on the Board of Governors for the petroleum products industry body SAPIA and is also a board member of the Netherlands and South Africa Chamber of Commerce and a council member of Business Leadership South Africa, amongst other roles.
He is a Retail Executive with almost 30 years of leadership experience with a diverse background that spans industries such as premium fashion retailing, branded fashion wholesaling, convenience retailing and petroleum products retailing. He still serves as Retail General Manager for Shell.
Hloniphizwe has highly developed skills in Business Unit Leadership, Business Development, Retail Operations Management, Key Account Management, Business Planning, Business strategy Development and Management and Relationship Management.
He has been very successful in the development of high performing teams, developing and leading retail business unit strategies and has worked with startup organizations as well as expanding businesses into new markets.
He has further developed his leadership skills through a number of programs including, amongst others, Management Advancement Program and Executive Leadership Program with The Mendoza College of Business through the University Of Notre Dame, University of Stellenbosch and GIBS. He has also completed the Board Leadership Program with GIBS.
He originally trained and qualified in the Medical Laboratory Technology Field before branching into retail leadership.
He is passionate about people development, enterprise development, as well as Ethical Leadership at Executive and Board level.
Leadership Conversations with Hloniphizwe Justice Mtolo