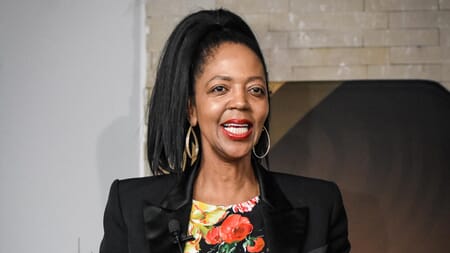 Dr. Judy Dlamini is a South African businesswoman and author who is the Chancellor of the University of the Witwatersrand and the founding chairman of Mbekani Group.
Dr Judy Dlamini is the founder and executive Chairman of the Mbekani Group. She is the former Chairman of Aspen Pharmacare Limited (Aspen) a JSE-listed South African pharmaceutical manufacturer with an extensive global presence with product distribution in more than 120 countries. Mbekani celebrates 20 years in business in 2016. The group has operations and investments in different sectors, including pharmaceuticals, facilities and property management, tourism, surgical instruments management, and luxury fashion retail.
Judy qualified as a medical doctor in 1985 from the University of Natal. She practised as a family practitioner for many years before consulting in Occupational Health for various companies, including Rainbow Chicken, Divpac (a NAMPAK subsidiary) and National Ports Operations. After completing her MBA, having majored in Corporate Finance, she joined HSBC Investment Bank, Johannesburg division, in Corporate Finance. She obtained Doctorate in Business Leadership from UNISA where she investigated the intersection of race, gender and social class in women CEOs' career progression and strategies for gender transformation at leadership level. One of the academic contributions from her research is the WHEEL Theoretical Model.
She serves on the Anglo American plc board as an independent non executive director. Previous board engagements include Discovery Holdings, a JSE listed financial services company where she chaired the Remuneration and Transformation Committees, and Woolworths Holdings (JSE listed retail company). She is past chairman of the CEPPWAWU Development Trust, a public benefit trust. She and her husband are the founders and trustees of Mkhiwa trust, a family public benefit organisation with a focus in rural development and education. She is married with two grown up children.
Leadership Conversations with Lwazi Bam