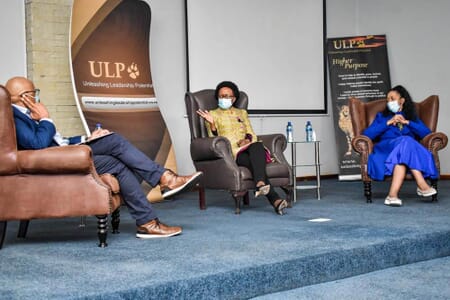 Dr. Judy Dlamini's Profile
MBChB(Ntl), DOH(UFS), MBA(Wits), DBL(UNISA), Cert. Innovation & Entrepreneurship(Stanford)
Dr Judy Dlamini a medical & academic doctor, business woman, author, and philanthropist; has worked in different sectors of the economy. She is the Founder and Executive Chairman of Mbekani Group that celebrated 20 years in business in 2016, Wits University Chancellor, co-founder, sponsor and trustee of Mkhiwa Trust, her family's PBO used for social upliftment, focusing in rural development, health and education; and founder of Female Academic Leaders Fellowship NPC, a PBO for developing a pipeline of black women leaders in academia.
She chairs the board of Wits Donald Gordon Medical Centre, GBVF Response Fund and is a director of SA SME Fund. Her Doctoral thesis investigated the intersection of race, gender and social class in women CEOs' career progression and strategies for gender transformation at leadership level.
She is the former Chairman of Aspen Pharmacare Limited, former board member of Anglo American plc, Discovery Holdings Ltd, Woolworths Holdings Ltd, and Northam Platinum. She is a published author of ''Equal but Different", "The Other Story" and "Grow to be Great".
Advocate Mojankunyane Gumbi's Profile
Chancellor of University of Venda
•Mojankunyane Gumbi is the founder of Mojanku GumbiAdvisory Services, a Johannesburg-based business advisory firm.
•She was a Special Advisor to South African President Thabo Mbeki from 1999 to 2008. From 1994 to 1999, she was an Advisor to then Deputy President Mbeki in the Mandela administration. During this time, she spearheaded South Africa's economic diplomacy, ensuring a global presence for South African companies. She was involved in peace-making initiatives in the Democratic Republic of the Congo, Cote d'Ivoire, Comoros, Sudan, Lesotho, Somalia, Zimbabwe, Iran and the Middle East.
•Also during the administration, Ms. Gumbi advised on domestic policy issues including the reform of the local healthcare industry, the expansion of South African industry to the rest of Africa and the world, banking and mining sector reforms.
The Chancellors Conversation