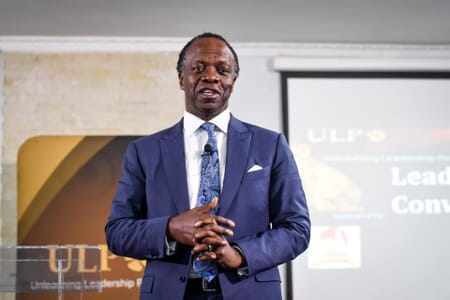 Sizwe Nxasana is a South African business executive and accountant. He is the former CEO of Telkom Group and FirstRand Group and was a chairman of NSFAS and is founder of Sifiso Learning Group. Sizwe is also a member of South African Institute of Chartered Accountants.
Sizwe Nxasana holds a BCom, BCompt (Hons), CA (SA) qualifications. He started his career at Unilever. In 1989 he established Sizwe & Co, the first black-owned audit practice in KwaZulu Natal. In 1996 he became the founding partner of Nkonki Sizwe Ntsaluba, now called SizweNtsaluba Gobodo, which is the fifth largest audit firm in South Africa.
He also served as President of The Association for the Advancement of Black Accountants in Southern Africa (ABASA) from 1991 – 1994. In 1998 he joined Telkom SA as Chief Executive Officer and was responsible for its listing on the Johannesburg Stock Exchange (JSE) and the New York Stock Exchange. He is the former CEO of the FirstRand Limited Banking Group, where he served from 2005 until he retired in September 2015.
Sizwe serves as Chairman on various Foundations and Trusts, he is the co-founder and Chairman of the National Education Collaboration Trust (NECT) and was appointed Chairman of the National Student Financial Aid Scheme (NSFAS) in August 2015 until August 2018. He is the founder and Chairman of Ikusasa Student Financial Aid Programme (ISFAP) which funds students who come from poor and working-class backgrounds. Sizwe Nxasana is now a social entrepreneur who recently founded Future Nation Schools which operates which are affordable private schools in South Africa.
He also founded Sifiso Learning Group, which is involved in Edtech, academic publishing and real estate. He serves on the Board of Trustees of the Zenex Foundation and a board member of the Solidarity Response Fund and chairs the fundraising committee.
Sizwe has been conferred with honorary doctorates by the University of Fort Hare, the Durban University of Technology, the University of Johannesburg and the Walter Sisulu University. He is a member of the Human Resources Development Council (HRDC).
Leadership Conversations with Sizwe Nxasana